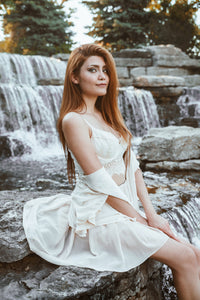 Sexy Fantasy Type Part IV – The Dominatrix sub Switch
Tie you up… Tie me down?
The CLBooks' little helper the Four types of lovers. Which are you? Quiz matched your Sexy Fantasy type–sub, Voyeur, Dominatrix, or Dominatrix sub Switch–and you're the sub Dominatrix Switch. Whichever suits your fancy, Little Pet… er… Mistress! 
If you haven't completed the Quiz, click the link above before you spoil your fun!
Now, a quickie review of your quiz results:
Definition of a Dominatrix sub Switch
A person in BDSM who finds sexual gratification as both a Dominant role and a sub role. Also known as both bottoming and topping with a partner or partners. One partner may suffice and you switch roles or you may prefer more than one for whichever need you desire to satisfy.
Sex Outfit of Choice 
Again, it all depends on your mood…
Top: gold Chantilly lace romper sans underwear; gold marabou five-inch mules; hair flowing freely
Bottom: nude-colored, sheer negligee trimmed in matching lace; high ponytail perfect for wrapping around a fist with your back bowed; bare feet
Accessory of Choice
While you dominate: a peacock feather to drive your overly sensitive sub to the edge and back
Or…
In the moment as a sub: diamond and platinum paved nipple and clit clamps connected by a matching collar and chain to twinkle as you writhe beneath your partner
Yet, still…
Interchangeable: red leather Shibari rope
___________________________________________________________
It's time to get in your psyche to discover who you really are deep inside…
Are you a twin? Is it your doppelgänger? Or do you swing both ways in the Shibari ropes?
Whatever the case, enjoy your pleasure in the way you see fit, however you desire. Top, bottom, side, back, front… Work it out!
Look in the mirror, swivel your hips, and wink at whomever you are in that moment. It's all about you, babe!

Now, go revel in your lifestyle and get frisky with CLBooks!

Comment below, join the CharmaineLouise Books Coterie Fan Club, and engage with us and other contemporary romance novel readers on our CharmaineLouise Books Facebook page to share your Sexy Fantasy type and thoughts. 
Fulfill Your Desires.
xoxo
Charmaine Louise
P.S. Catch up on our 4-part series on each Sexy Fantasy type with Part I the sub here, with Part II the Voyeur here, and Part III the Dominatrix here.
Don't miss a pulse-pounding post!
*For our intents and purposes, all parties involved are consensual. No illegal activity for us, Honey!
---